When you are developing a marketing plan or strategy, it is crucial to understand the position of your business within the competition. A SWOT analysis (strengths, weaknesses, opportunities, and threats) examines your organization's internal and external situations to support your decision-making. The strengths and weaknesses evaluate your organization's own ability to achieve specific objectives, while the opportunities and threats outline how the environment may affect your success. These four quadrants, as a whole, work as a roadmap that tells you the next step you should take.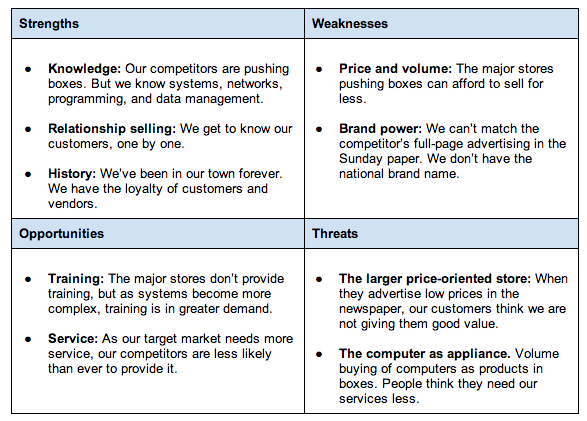 Example of SWOT Analysis from Bplans
Strengths
Strengths are the positive attributes within your organization. They include but are not limited to quality products or services, the expertise of workforce, good reputation, history, convenient physical location, and available resources such as "capital, equipment, credit, established customers, existing channels of distribution." Anything that differentiates you from your competitors can be your strength.
Weaknesses
Weaknesses identify areas in which you can improve, and they're within your control. You might have substandard or high-priced products or services, limited expertise, lack of resources, a tight budget, technological issues, poor customer service, an unclear unique selling proposition, or any other internal factor that diminishes the value of your business.
Opportunities
Opportunities summarize external factors that you can take advantage of to propel your business. They may be a new or developing market, technological advances, innovative ideas or product lines, media coverage, emerging trends that are favorable to your industry, etc. It is important to acknowledge the timeframe of each opportunityso that you won't miss out on it.
Threats
Threats, either existing or potential, can place your campaign at risk. They may refer to strong competitors, technological changes, economic downturns, government regulations, an undesired shift in customer behavior or attitude, or upcoming holidays that would attract people's attention. Although threats are beyond your control, you can leverage your strengths and minimize your weaknesses to reduce your vulnerability.
Remember that SWOT analysis is subjective. As a result, input from diverse perspectives makes for a comprehensive and strategic audit of your business, which allows you to evaluate your previous efforts and foresee issues you're facing. Once you've compiled the results of your SWOT analysis, you can align your marketing strategy with it by highlighting your competitive advantages.
Located in Columbus, Ohio, Creative Spot has helped organizations with strategic marketing for over 20 years. If you would like to learn more about SWOT analysisor have questions about Creative Spot's capabilities, please contact us.
References:
https://blog.hubspot.com/marketing/swot-analysis
http://www.businessdictionary.com/article/632/using-swot-analysis-to-develop-a-marketing-strategy/
www.marketingteacher.com/swot-analysis
https://www.entrepreneur.com/article/293196